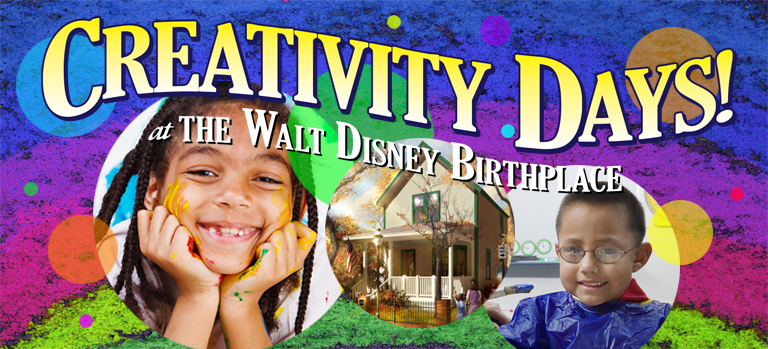 Creativity Days is returning to The Walt Disney Birthplace! This FREE community creativity event will take place on Saturday, June 24th, 2017, from 11:00 AM to 2:00 PM on Tripp Avenue, right outside the Birthplace.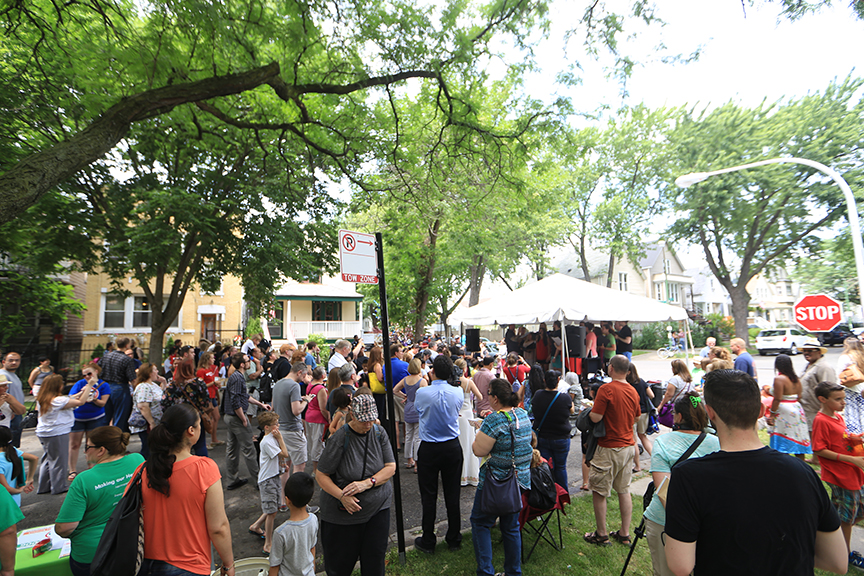 Last year's inaugural Creativity Days event was a smash hit, with all kinds of food, games, musical performances, art stations, a Schwinn Bike giveaway, the planting of the Creativi-Tree, and surprise guest Dick Van Dyke! For 2017, there are plans for even more fun and surprises, so be sure to attend if you are in the Chicago area that weekend!
. . . . . . . . . . . . . . . . . . . . . . . . . . . . . . . . . . .
JUST ADDED: For this year's Creativity Days event, there will be guided group tours inside the Birthplace! This is a very rare opportunity to see the parlor, kitchen, dining room and upstairs bedrooms, during the restoration phase, before the home is opened to the general public! Tickets are VERY LIMITED and the cost of these tickets helps keep Creativity Days free for the community! Click here to get your tour tickets today!
. . . . . . . . . . . . . . . . . . . . . . . . . . . . . . . . . . .
Here are just some of the highlights planned for this year's event: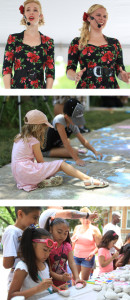 The Big Draw — With colorful chalk, we'll transform the sidewalks surrounding The Walt Disney Birthplace into a vivid "artwalk" filled with YOUR creative magic! Fun for all ages!
Creation Stations — There will be several stations where anyone can draw, create, dance, and innovate!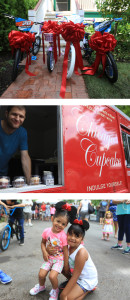 Win a Schwinn — The Schwinn company, founded in Hermosa just blocks away from the Birthplace, will again be giving away four of their classic American bicycles through a speciall Creativity Days prize drawing!
Food Trucks — Tasty temptations will be available from some of Chicago's finest "gourmets on wheels!"
Live Performances — There will be music, dancing and more, courtesy of the fantastic "Letters From Home," the patriotic tour de force featuring the bombshell duo of Courtney Groves and Erinn Diaz! They both wowed the crowd last year and are back by popular demand!
The Creativi-TREE Ceremony — The Walt Disney Birthplace will add new magic to the "Creativi-TREE," a living, ever-growing celebration of the Disney children born in the home. The Creativi-Tree is a symbol of CECCI's mission to inspire the next generation of creative thinkers, dreamers, and doers. Children will be able to paint Creativity Stones to place under the tree, and write their dreams on colorful ribbons to be tied to its branches!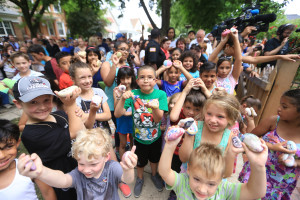 Remember, as always, Creativity Days is a FREE event, so we hope to see you there!
We need your help.
You can help make Creativity Days an even bigger success in 2017! Share this information with your friends and family and/or sponsor this event! For sponsorship info, please contact Todd Regan at todd@thewaltdisneybirthplace.org
And if you'd like to receive email updates about Creativity Days 2017, please sign up below!
Save
And please DON'T MISS The Magic of the Mouseketeers event – One Night Only – at the historic Tivoli Theater Downers Grove on June 25th
Save